Bit the Dwarf African Claw Frog



Yes, this adorable little frog's name is Bit. We got him as a tiny baby and I thought he was the smallest Dwarf Claw Frog ever seen, so we named him "Bit" since a single bit is the smallest amount of information there is. Well, he's all grown up now and he's more than just a bit. Maybe he's like 4 bytes.

Bit lives in a huge glass vase which holds several gallons of water. Though these guys can live in less, I think it's not nice to give them so little room to swim. The bottom is filled with large stones, not one of which he could accidentally swallow. There is also a nice looking plastic plant which matches the stones. He has only one tank-mate; a tiny snail who cleans the plant and rocks and sides (very well, I might add). They don't bother eachother.

Bit has powerful legs for swimming and long fingers for digging. He has no tongue which is why Claw Frogs shovel food into their mouths kind of the way the Cookie Monster does! He eats tubifex or black worms or blood worms. He'd theoretically eat brine shrimp if he could catch it. Although Claw Frogs live totally aquatic lives, they come up to the surface for air. It isn't actually necessary for them to live in a tank with a filter and air supply. In fact, some argue the constant movement and noise of the filters can cause so much stress as to kill them.

We do know a woman who keeps a large size Claw Frog and that tank must be filtered due to it's size. Bit, however is small enough that we can change his water frequently. Plus, large Claw Frogs will eat or attempt to eat whatever moves. You cannot keep a cleaner fish or snail in there with the full size version, but Bit is too small to eat the tank-mate.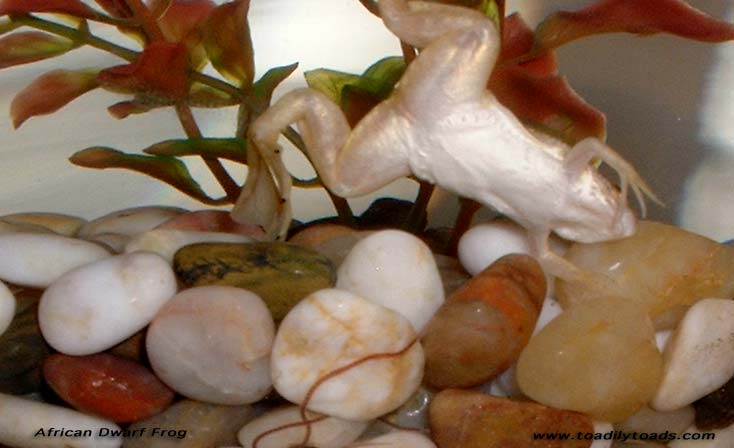 Bit hunts for the black worms right under his nose






Look at those long fingers!